Bushwalking
The Illawarra Region provides a myriad of wonderful vistas, watering holes and forests that provide beautiful experiences and opportunities to enjoy the wonderful 'greenscapes' of the area. For those that are in the area visiting or locals that may not be up to speed on the bush walking trails available, here is a quick guide to get you on a trail in no time to enjoy a jaunt in the Illawarra Escarpment!
Want to have a taste of a bush walk but with the security of solid paths and trails, people with young children or limited mobility will enjoy the comfort of this trail.
Maddens Falls – Dharawal National Park (1.5km return walk)
The loop trail starts on a wide dirt path and transitions onto a boardwalk, weaving throughout heath, woodland and swamp filled with wildflowers and local birdlife. Further along you reach the viewing platform of the spectacular Madden's Falls. This is a great child friendly location to look at the view of the falls and down the valley, as well as have a seat and a snack. 
Never been on a bushwalk before or low in fitness? This is the walk for you!
Cascade Walk – Macquarie Pass National Park (2km return walk)
A great walk any time of year, enjoying plenty of wildlife and a short walk to one of Wollongong's most gorgeous waterfall sites. With National Parks signage clearly marked, making the trail especially suitable for beginners with the added security of signage and comfort "that you are on the right trail".
Macquarie Pass National Park is spectacular by showing a diverse range of flora and fauna. Your pathway is often crossed by a curious Lyrebird or two and lazy dragons can often be seen on a sunny rock closer to the creek. Although only a short walk, this trail should be taken slowly, quietly – to really take in all of the surrounds and the treasures it provides. It is especially exciting for children, the sensory journey it provides is exceptional, whilst the small time it takes keeps them focused and interested.
Looking for a challenge that keeps up with your fitness level? Summits and rough paths deliver the goods…but still comfortable for newbie walkers!
Mt Kembla Summit – Illawarra Escarpment State Conservation Area (3.5km return walk)
One of Wollongong's most beautiful and unique walks. Depending on the weather; a plethora of fungi, an eerie walk in the clouds or simply a great walk to absorb the iconic Wollongong coastline and Lake Illawarra views. A great walk any time of year, enjoying plenty of wildlife with a short challenging walk.
Make sure you have a good look around on this trail, there are beautiful ferns, fungi, lizards and lots of birdlife including the cheeky Lyrebird. Enjoy the summit walk up through various forest types, rocky sections and a staircase with the final reward of beautiful views to Wollongong's South. A great walk to get the heart pumping, or take your time and enjoy the beautiful forests along the way.
Royal National Park
Located on the southern fringe of metropolitan Sydney, Royal National Park is the second oldest national park in the world, offering spectacular scenery from sub-tropical rainforests and sandstone heathlands to dramatic coastal cliffs and unspoilt ocean beaches.
Royal is home to many great bush walks that hug the park's coastline, taking you along the cliffs, beaches and escarpments ranging from 1km (suggested time 30 minutes) to 26km (suggested time 2 days).
There are several Tour Operators who offer guided day and overnight bush walks of Royal National Park. Visit the website for more information.
Illawarra Escarpment & surrounds
The Illawarra Escarpment is a dramatic 30 million-years-old formation, offering scenic lookouts, hiking, walking, birding, and picnic spots. It's home to dramatic sandstone cliffs and a medley of different forest types from sub-tropical rainforests to olive-green eucalypts and towering cedars.
With two accessible mountains, a vast array of beautiful birdlife and strong Aboriginal heritage, this is a must-explore on any Wollongong visit.
For interactive maps and more information visit the NSW National Parks & Wildlife Service website or National Parks Association of NSW website.
Wollongong's Blue Mile
Not so much a bushwalk but still very noteworthy! Wollongong's Blue Mile stretches from Stuart Park in North Wollongong to Wollongong Golf Club in the south, offering the best vantage points to take in the beauty of the South Pacific Ocean to the east and the magnificent Illawarra Escarpment in the west.
This section of coastline is much-loved, consisting of shared pathways and parks and a bunch of places to stop in for a coffee or a delicious meal – or both!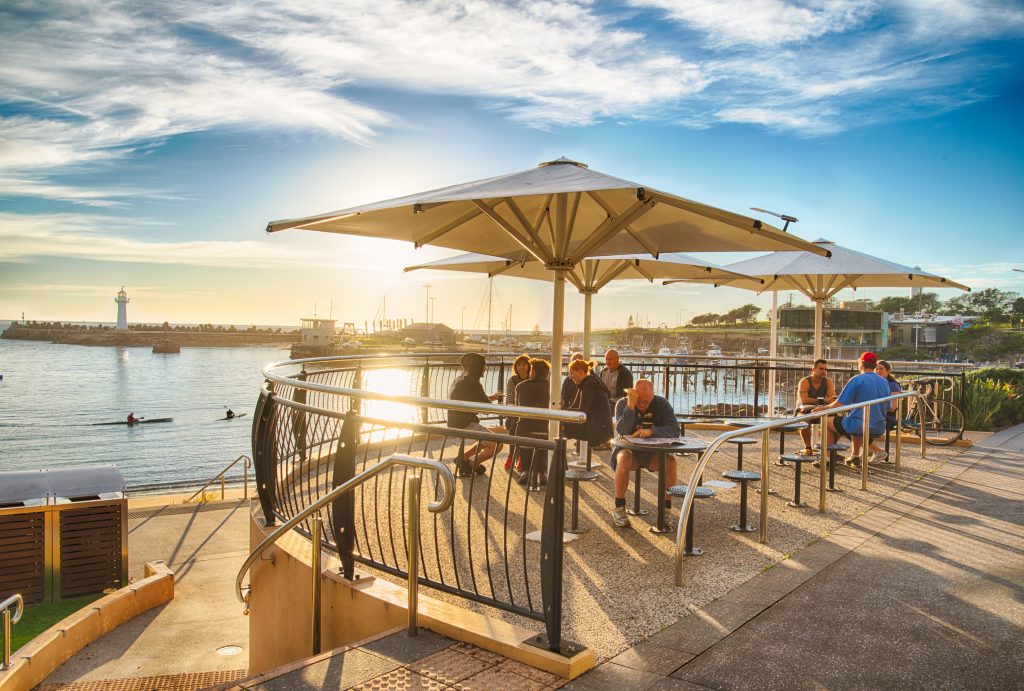 Blue Mile – Image Credit: Kramer Photography Heading to a NSW national park? Be prepared with the 
NSW National Parks app
. * Check NSW National Parks and Wildlife 
website
 for up-to-date warnings prior to travel. Please note: All National Parks will be closed to the public during total fire bans – check the NSW Rural Fire Service 
website
 for more information.